Non Series #6 - Little Life of Lincoln in Short Stories
a. The Biddle Press Philadelphia

Paperback. 6.25 x 4. 32 pages. Published by The Biddle Press, Philadelphia, Pennsylvania. The title on the cover (The Little Life-Story of Lincoln) is different than the one on the title page (The Little Life of Lincoln). Copyright is 1909.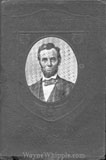 b. Jacob Ulmer Packing Company, Pottsville, Pa.

Paperback. 6.25 x 4. 32 pages. Published by the Jacob Ulmer. As with a number of Whipple's pamphlets, this one was published as an advertising vehicle for a local Pennsylvania Company. In this instance a meat packing company. Copyright is 1909.
| | | | | |
| --- | --- | --- | --- | --- |
| Front Cover | Title Page | Rear End Paper | Rear Cover | Intro Letter |
c. Lawrence Savings and Trust Company, New Castle, Pennsylvania

Paperback. 6.25 x 4. 32 pages. This copy of the small pamphlet was published by a bank. This is the third version of the little story which was penned by Whipple that I have seen. All three have the identical text. Copyright is 1908.
Front Cover

Back Cover

Title Page

Back Inside Cover

Internal bank advertisement
d. Bobbs-Merrill Book Store, W.K. Stewart Co., Indianapolis

Paperback. 6.25 x 4. 32 pages. Here is the fourth different publisher of this little Whipple pamphlet.The title page is slightly different omitting the "Story" from Life-Story.

The date of publication is unclear although the copyright is 1909. It is noted that the W. K. Stewart Company was incorporated in 1909.
| | | | |
| --- | --- | --- | --- |
| Front Cover | Back Cover | Title Page | W.K. Stewart Company headquarters |